A-WALL modular offices are typically free-standing, four-sided enclosures. Other than being assembled on your facility's existing concrete floor, they're structurally independent of your plant or warehouse. However, if you're considering a modular office that will be assembled in a location next to an existing, permanent building wall, an A-WALL two- or three-wall design may be an option… And can save you money.
Some benefits of using your existing walls include:
Fewer wall panels and connecting components, resulting in less cost
Borrowed light from any existing, exterior windows
Less wiring if electrical receptacles are already present
Design Considerations
In order to consider using existing walls for your modular office, you must first determine that they're structurally and architecturally suitable for the task, and as tall or taller than your modular office. Flat, plumb walls constructed of concrete, cinder blocks or stud and drywall are commonly used. They're normally strong enough to support the steel angle for the corrugated steel decking that acts as the roof of the modular office. The roof load this angle carries is typically 50 PLF or less. These walls are also appropriate for attachment of the vertical, aluminum channel that acts as a "wall start", where A-WALL panels are connected to your building. By contrast, corrugated metal-sided walls like those found in pre-engineered, metal buildings aren't flat or structurally sufficient. Additionally, metal buildings normally have steel columns and X-bracing that interfere with the attachment of A-WALL panels, ceiling and roof decking.
If you're installing your office against one existing wall, a three-wall design saves you the cost of one modular office wall. If the location is in a corner, you'll realize even greater savings by eliminating two modular walls. Note that although your initial installation requires your existing walls, future relocation of your office to a new area of your facility without existing walls isn't a problem. You can add the additional A-WALL panels and components to convert it to a four-wall structure. Modular means savings – and unlimited flexibility.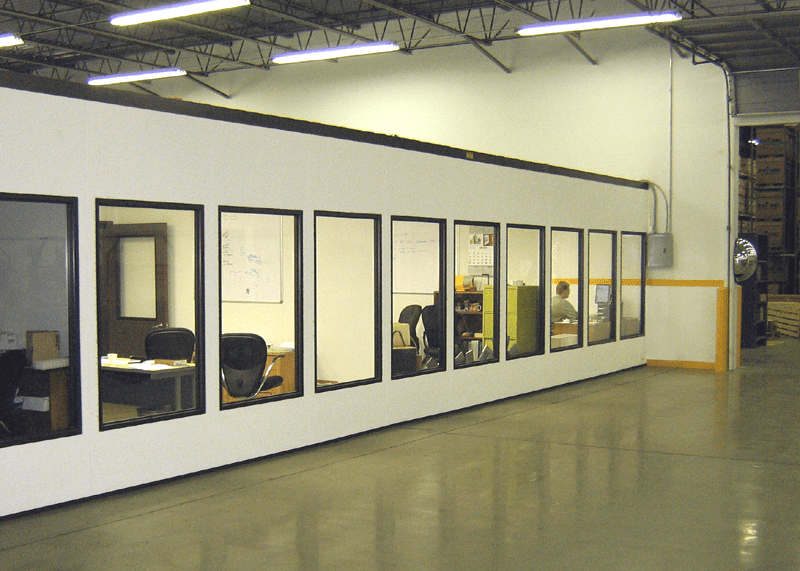 Get a FREE Quote! Call Now!
1-800-345-4400
Or Request a Quote Online
Manufactured by Warwick Products.
5350 Tradex Parkway
Cleveland, Ohio 44102
Phone – 216-252-9292
FAX – 216-889-1263 | 888-432-9274
E-mail: info@a-wall.com
Privacy Policy