The best parts about pre-engineered modular walls are that they can make your space dynamic, more adaptable.  They also save you time and yield a whopping cost-savings.  Unlike traditional brick walls, modular walls are light on your pocket and merge easily with any existing facility.
Not only are modular and temporary walls cost-effective, but they also require minimal labor. Whether it is your commercial office, industrial workplace, or in-plant facility, you'd find these walls to be a great alternative to permanent construction. These walls allow you to improve production efficiencies, enclose equipment, or create in-plant offices and break rooms quickly and flexibly.
So, if you are looking for a way to cut down on construction costs, you should check out modular walls / pre-engineered buildings.  With these buildings, you can skip the hassle of a lengthy construction schedule too!
Are you interested in knowing more about modular wall systems and how you can save costs with them? Keep reading!
Quick Links: Are you looking for professional advice on modular walls / buildings? Contact A-WALL today!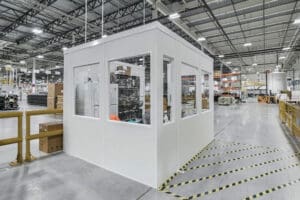 What are Modular & Temporary Wall Systems?
Pre-engineered Buildings
That is one of the most common questions for facility managers or individuals who are overseeing workspace construction. "A modular wall is a flexible, alternative solution to permanent construction," explains Carl Zahtilla, National Sales Manager of A-WALL Building Systems.  Modular walls look like traditional drywall  and serve the same function as standard brick walls but factories manufacture and ship them to you as separate parts. Upon arrival, our installation team will assemble them for you.
The unique part about these pre-engineered modular walls is that they are moveable and therefore can adapt with your changing needs.. Additionally, modular buildings come factory-wired based on your specifications.. They are used in warehouses and plants to enclose people, products and/or processes. They section off desired areas and aim to provide a sense of privacy where needed.
Companies that manufacture  modular walls offer a range of custom solutions. From different sizes to finishes and colors, the possibilities of customizing modular systems are endless.
Quick Links: Get a quick and easy estimate for a modular building! Reach out to A-WALL and request a quote.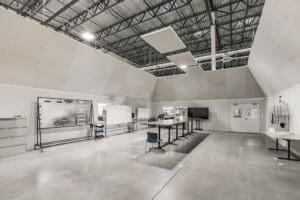 What are the Benefits of Modular & Temporary Wall Systems?
There are phenomenal benefits of skipping the traditional brick-and-mortar walls and opting for pre-engineered modular walls. You might already be aware of how you can enable cost savings with these types of systems but we have a few more benefits to add to the list. Check them out below:
Significant Savings: Yes, you read it right! With the availability of cheaper alternatives for raw materials and minimal labor requirements, these temporary walls / buildings are great budget options. Building system companies claim that you can save a chunk of your construction budget from using these pre-engineered wall systems.
Quick and Hassle-free Installation: We know how cumbersome building a drywall or brick wall is. Unlike these traditional options, modular systems take much less time. The schedule for building a modular building can fit tight deadlines. Besides, reconstruction is much easier with them.
Least Disruptive: If you are willing to build brick walls to customize already busy workplaces, get ready for noise and disruption. But, putting up a modular building can put an end to all of that. Most of the work for the walls happen outside the job site. It only takes a couple of days to set up pre-engineered systems. In a nutshell, it won't hamper the already existing work environment.
Highly Adaptable: The modular structure of these walls are great for in-plant and factory spaces. You should also know that you can transport these walls to different locations and rearrange them without any trouble. You can even switch their positions to create dynamic spaces according to your changing needs.
Ample Privacy: Though traditional walls also offer this benefit, they might not be as flexible as temporary walls. Modular walls allow privacy without hindering flexibility. It can help you create modular workstations and effective meeting rooms in your plant.
Eco-Friendly: Most modular wall systems are recyclable and eco-friendly. You will also come across temporary walls that use recycled material for their construction. Hence, you should opt for modular walls if you want your warehouse or office to move toward sustainability.
Quick Links: Hire a professional who can help you learn all about modular construction benefits. Check out A-WALL for the best advice on modular projects!
How Much Do Modular & Temporary Walls Cost?
It would be wise to know all about the costs of modular wall systems before you move ahead with purchasing them. A-WALL Building Systems provides quotes back within 24 hours. The pricing of these walls vary widely based on various factors (material, size, hardware, ceiling height, type of door, etc).
In any case, the cost savings and price value of pre-engineered walls are much more favorable than that of brick walls.
Quick Links: You no longer have to hold your construction work because of exorbitant brick or drywall prices. A-WALL gives you the best quote for modular buildings and wall systems, which are comparatively inexpensive and versatile!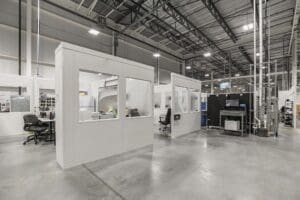 How Can You Save Money With Modular Wall Systems?
Now, let's come to what really matters. It's now clear that modular walls can help you save money. But how?
Imagine you are looking to customize your manufacturing plant with an office space and trying to incorporate a growing team. Now, it might be hard for you to predict how many workstations might be required and building walls every few months is not exactly practical or feasible. In such cases, modular walls allow you a lot of flexibility. "Our customers are constantly making changes in their facilities and going with an A-WALL system allows them to add on, reconfigure, and make those changes easily and as needed over time." Carl says. Additionally, this flexibility saves you money as you don't have to spend on constructing entirely new, permanent walls and structures every time you make a change to space.
Building system companies will tell you that these walls are also easy to manufacture and assemble. As a result, you can complete the job with minimal labor which translates to cost savings!
Additionally, the use of a modular system allows you to have more control over and understanding of your construction spend because the costs are clear upfront. "There's not a lot of surprises when using modular and temporary wall systems. Because you're purchasing a pre-engineered building, you know the cost when we quote the job. You have a clear materials cost and installation costs and those costs don't change," Carl tells us. Plus, when using A-WALL Building Systems, you aren't dealing with multiple subcontractors, meaning yet another unknown (the reliability of an additional party) is eliminated because A-WALL installs the modular system, too.
It is worth mentioning that most modular walls come with an extended warranty. In the long term, if your building need maintenance or repair, you don't have to shell out extra money out of pocket. Additionally, pre-engineered modular offices come in a variety of designs so that you can emphasize the key functions – including excellent sound control, high interior ceilings, paintable panel surfaces, and high vertical load – that matter most to you.
Quick Links: Your modular wall system is depreciable! How? Learn more and check out A-WALL's tax depreciation calculator here!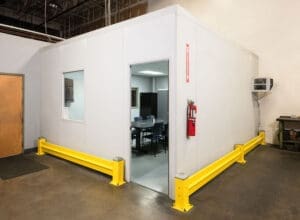 FAQs
Can I Save Money With Temporary Walls?
Yes, there are many ways that modular wall systems allow you to save money. Firstly, the raw materials for temporary walls are much cheaper, which automatically will enable them to be cost-effective. Secondly, assembling and constructing a modular wall is not a laborious task. As a result, you even save money on labor.
Lastly, these walls are highly flexible, which is why they are great for an industrial workspace. With modular temporary wall systems, you can reconfigure the layout of the space. Since they are movable and changeable, they allow you to save money on renovation and reconstruction.
Wrap Up
Workplaces are starting to focus on making better use of the available space. One of the best things about pre-engineered walls is that they can save you a chunk of money as compared to their more traditional brick counterparts. You can create resilient spaces without breaking your bank.
So, if you have plans for constructing or renovating your industrial or commercial workplace, this is the right time to discuss the possibility of modular systems with your team.
Quick Links: It might seem hard to opt for renovations at your workplace with current market rates, but not anymore! With A-WALL's affordable pre-engineered walls, you can make your workspace more modular and flexible!…