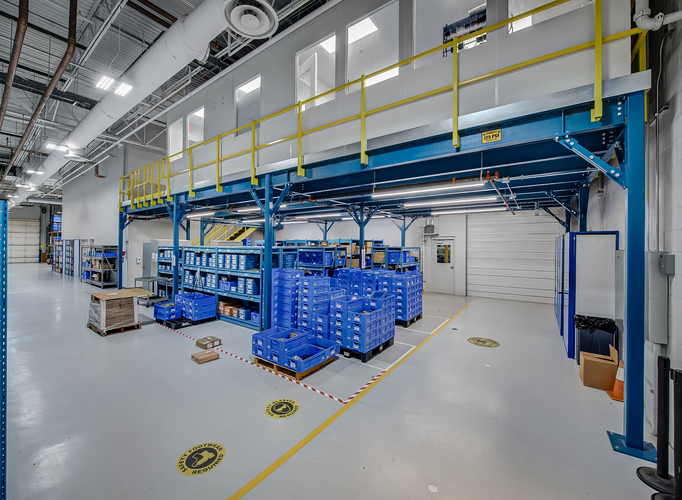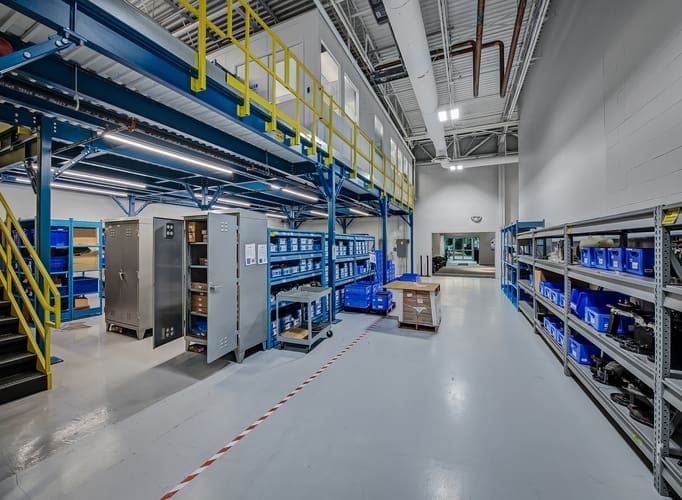 Pre-Engineered Mezzanine Offices
Make Use of Underutilized Space
A-WALL Pre-Engineered Mezzanine Buildings allow you to utilize space you already own by moving up… instead of out. The economics are simple. Overhead space is heated, well lighted and in most cases, wasted. Building A-WALL above or below a mezzanine converts overhead space to productive floor space for a fraction of the cost of new construction or signing a lease. You can also use both levels of the mezzanine to create a truly flexible, 2-story A-WALL Building.
Elevated, A-WALL modular offices let you place key people and functions high above the manufacturing level. Increased productivity and safety is often the result, with improved plant surveillance. A-WALL below mezzanines offer long term storage of slow inventory, parts or records above the building with easy access using stairs, pallet gates or vertical lifts. If needs change, the A-WALL building can be relocated independently, allowing full use of both mezzanine levels. All mezzanine designs conform to OSHA standards and all major building codes.
Build Above and/or Below the Mezzanine
Build above to free up floor space, below with storage above, or create a custom, 2-story A-WALL Building using both levels.
Complete Flexibility
Like A-WALL, mezzanines are demountable when needs change.
A Variety of Floor Surfaces
Choose from plywood with tile, PVC tiles or carpet, steel bar grating or steel floor plate.
Simple Design – Fast Installation
Pre-engineered, steel components assemble easily using nuts, bolts and self drilling fasteners. Learn about our installation services here.
Load Capacities to Meet Any Requirement
Standard floor load designs of 125 pounds/square foot… Custom designs up to 500 pounds/square foot.
Common Building Accessories
See a list of commonly-purchased building accessories that provide unique solutions to your working space. From guard rails to heating and cooling systems, A-WALL is your one-stop-shop for in-plant building solutions.
We were able to make use of underutilized space in our manufacturing facility with A-WALL's pre-engineered mezzanine offices. An A-WALL modular building was installed above the mezzanine to make use of overheard space and to free up productive floor space. The entire process, including installation, was quick and easy!
– Graham B., President