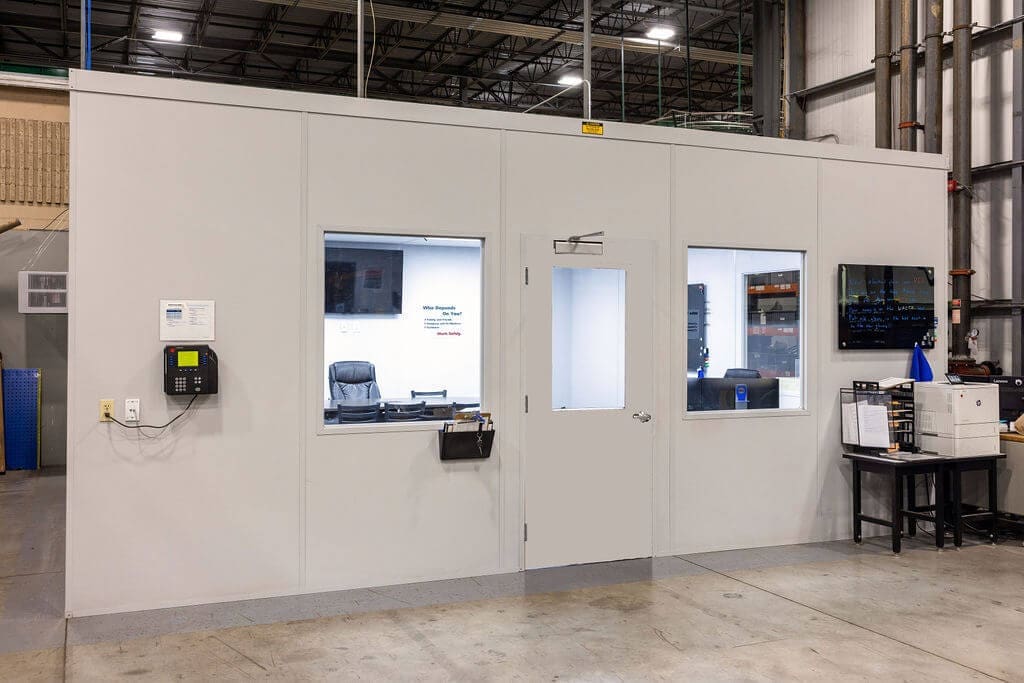 Single-Story Modular Offices
Unlimited Applications
A-WALL 200 and A-WALL 300 are single-story modular systems. Whether you're enclosing people, a critical process or products, A-WALL in-plant buildings can be designed to provide the acoustic, thermal and structural performance your project requires. The A-WALL systems seen on this page represent combinations of A-WALL components configured to meet typical in-plant building needs. However, when your project requires a special design or environmental controls, there are infinite ways to integrate these components and accessories to meet your in-plant building requirements.
Regardless of design, the average shipment of an A-WALL project is less than 10 working days after drawing approval. To complete your project, A-WALL offers factory-installation services so you can trust the system is installed successfully.
Excellent Sound Control
Full wall thickness at panel connections and corners keep sound out… no hollow wiring posts.
Unlimited Wiring Capability
Exclusive design allows hidden wiring in any panel, at any location using standard boxes and devices.
Unsurpassed Quality
A-WALL's commitment to quality and attention to detail are unmatched.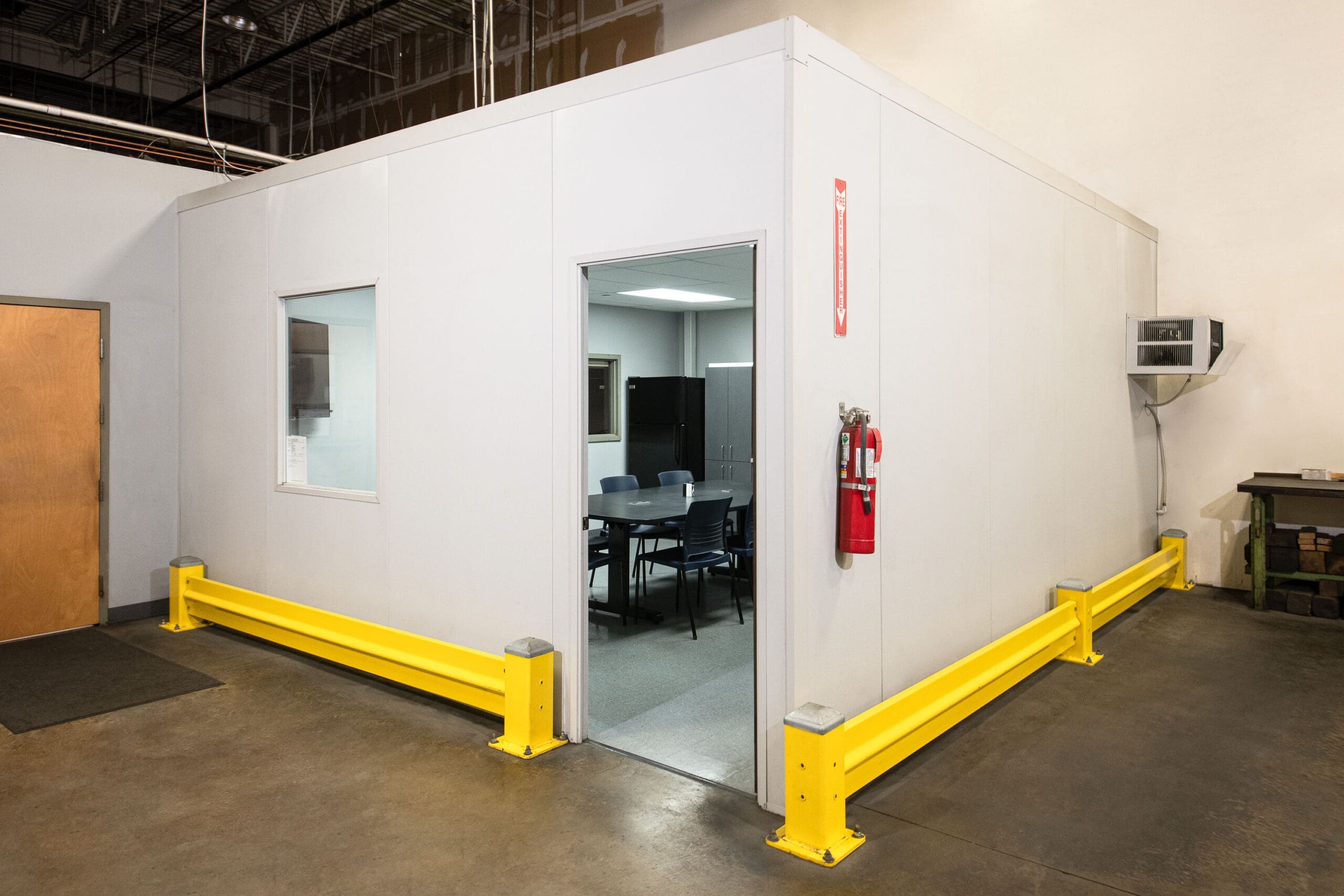 A-WALL 200
The Appearance of Permanent Construction
A-WALL 200 offers all the benefits of a modular in-plant office, without the modular appearance! Fine line seams at panel intersections give it a monolithic look, similar to that of conventional construction.
Rugged, 6 mil. vinyl panel surfaces will withstand the abuse of an industrial environment and clean easily with most spray detergents. For a custom look and significant savings, unfinished panels are also available for field painting to corporate color schemes. Baked enamel finished connecting components resist corrosive environments and are factory cut to size for fast, field assembly.
Concealed Framing Members
Buildings look less "demountable" using hidden, friction-fit steel studs to connect the panels.
Interior Ceiling Heights Up to 8′- 6″
Building sizes and configurations are virtually unlimited.
Vinyl or Paintable Panel Surfaces
Durable, vinyl panel surfaces or paint panels to desired corporate color scheme.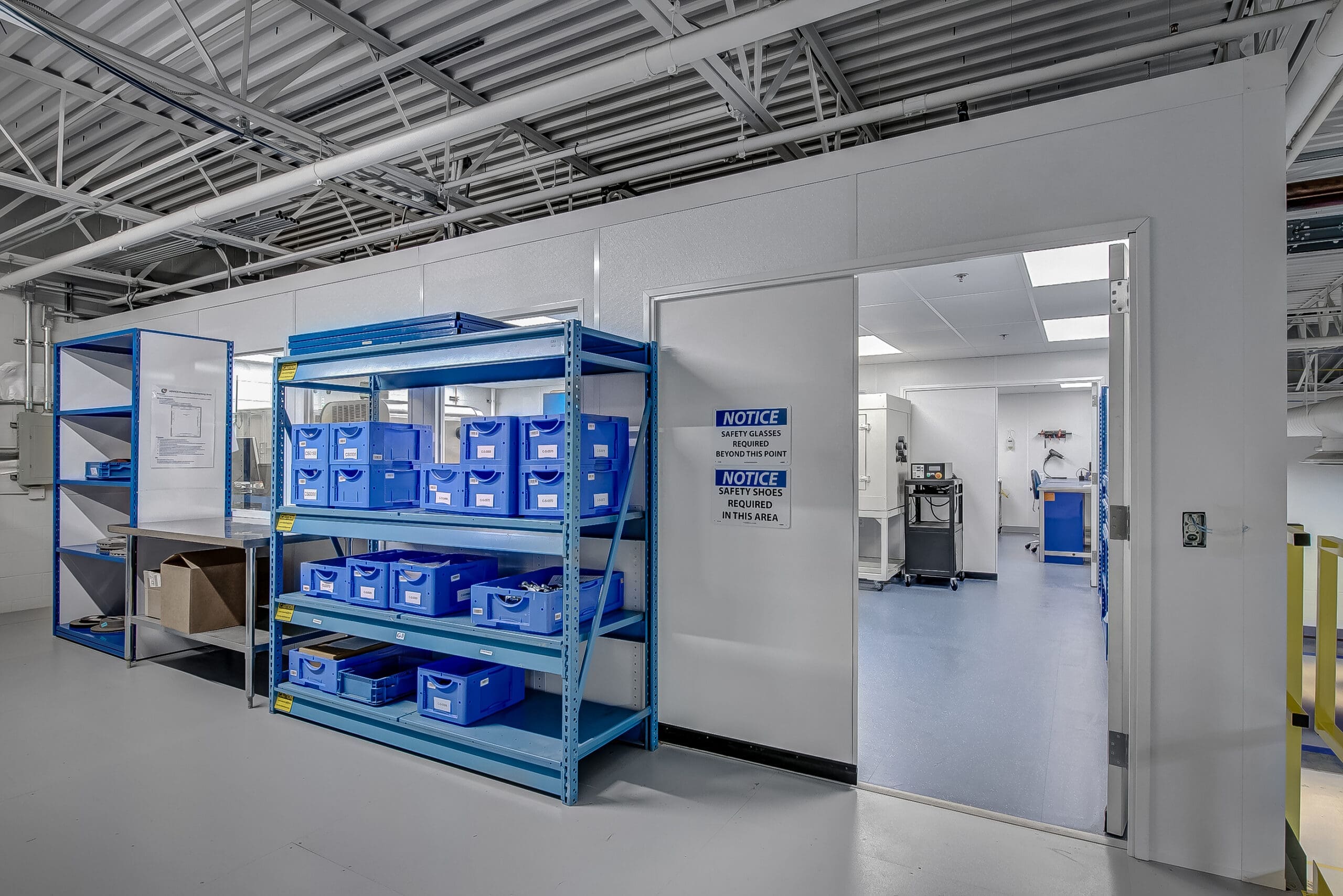 A-WALL 300
The Versatile Building System
A-WALL 300 is the most versatile in-plant building system available today. I-Studs located at the panel connections significantly reduce installation time and allow panel stacking for custom building heights. The I-Studs are electrostatically painted to coordinate with the panel finish. A full wall thickness at panel connections and corners insures consistent sound and temperature control as well as creating a uniform fire barrier for your building.
Simple I-Stud Panel Connectors
Panels install quickly without fasteners using color coordinated I-Studs. A-WALL offers expert installation services to provide you with a turnkey application.
Standard Ceilings Up to 11′- 6″
Custom buildings available with higher ceilings as required.
Mix or Match Panel Finishes
Choose from vinyl, FRP, steel, or unfinished paintable panel surfaces. See various finishes and building configurations by visiting our photo gallery.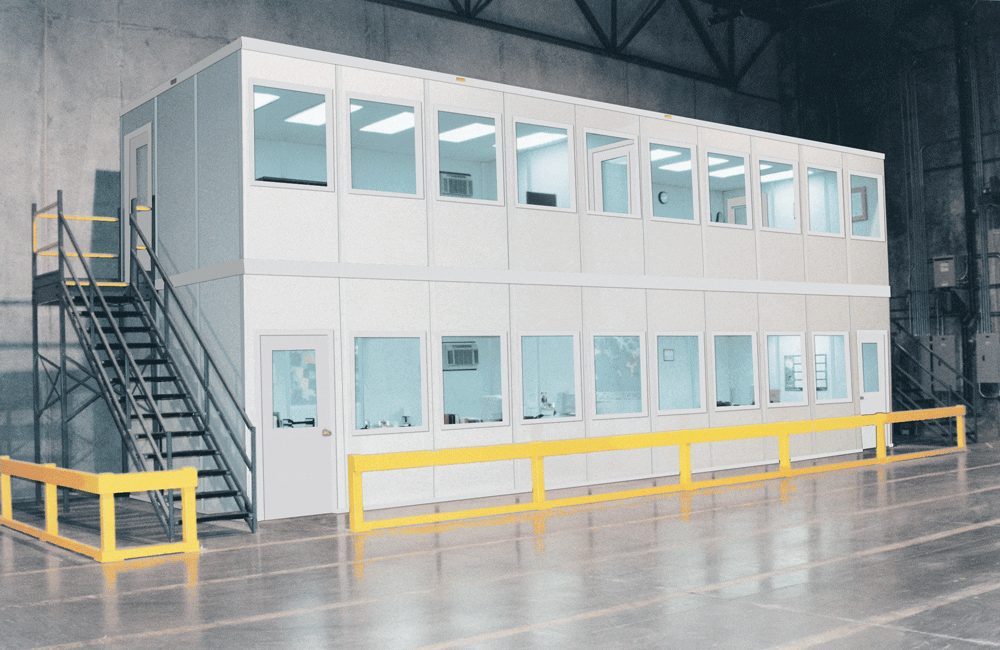 Two Story Modular Offices
A-WALL 400
The Structural Building System
A-WALL 400 is a two-story in-plant office system that improves plant surveillance and takes advantage of wasted, overhead space. A safer building system, A-WALL 400 was designed using stringent safety factors and thoroughly tested at a leading, Midwest university.
Building assembly is fast, using lightweight, galvanized steel floor joists and simple hanger bracket assemblies. The second story floor is constructed of 3/4″ tongue and groove premium plywood, ready for field applied tile or carpet. Unlike conventional construction using fabricated bar joists, all components are in-stock for quick shipment.
Structural Channel Studs Support up to 17,000 Pounds
Structural support for the upper level is concealed using color coordinated channel studs and steel reinforced corners.
A-WALL Panels Support up to 6,000 Pounds Vertical Load
Exclusive, panel design is similar to that of conventional construction and available with vinyl, FRP, steel or unfinished panel surfaces, suitable for custom painting on-site.
Meets All Major Building Codes
Exceeds all national standards governing load and deflection.
Utilize Wasted Overhead Space
Requires less than 18′ of clear height.
Clear Spans up to 22′
Custom building configurations of unlimited size available as required.
Freestanding Partition Walls
Inline Column System
With A-WALL's Freestanding Inline Partition Walls, you can divide your plant floor into work cells or enclose specific products or areas. Freestanding partition walls save you costs on mechanical contractors. They can be configured to your specification to optimize your plant space. See more movable wall systems here.
Mix or Match Panel Finishes
Choose from vinyl, FRP, steel, or unfinished paintable panel surfaces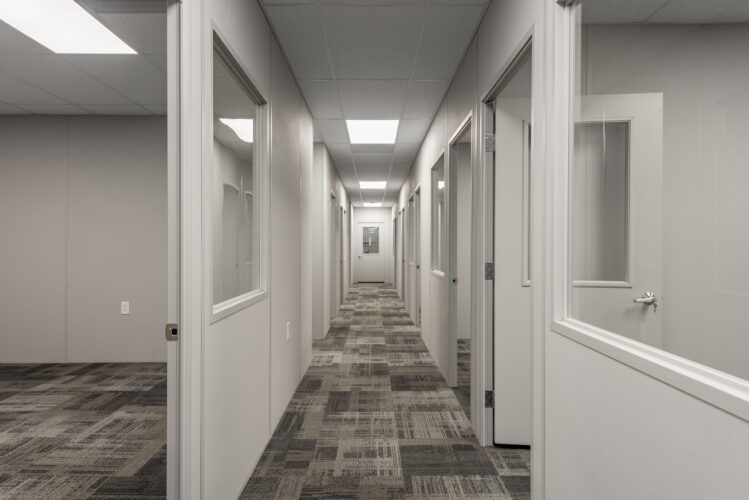 Demountable Partition Systems
Installs Between Floor & Ceiling
Divide A-WALL buildings or existing office space with A-WALL's demountable partition system. This modular option is flexible, versatile and re-usable. The two-piece ceiling track installs quickly and easily giving you a simple, affordable modular office solution.