Building Designs
A-WALL buildings have unlimited design possibilities. The Building Designs page offers an overview of common structure options and configurations.
Space Planning and Sizes
Here you will find helpful information regarding space planning for your A-WALL building including square footage for common office sizes based on use and structure considerations.
Air Conditioner Cooling Load Calculator
If you need assistance calculating the air conditioning requirements for your A-WALL building for your specific geographic location and task requirements, our easy-to-use calculator can help.
Light Fixture Calculator
Different tasks demand different levels of illumination for safety and accuracy of visual performance. Our light fixture calculator will provide you with the lighting requirements for your particular needs.
Two-Way Length and Temperature Convertor
Our two-way unit converter will help you quickly determine temperature and length from standard American units to metric and vice versa.
Tax Depreciation Comparison Calculator
Because A-WALL building systems are considered equipment, they depreciate more than five times faster than conventional construction. Use our tax depreciation comparison calculator to compare the cost of a traditional project to an A-WALL building installation.
Exclusive Features and Accessories
Click on any of the tabs below to learn more about features and accessories for your A-WALL modular office or inplant building.
Did You Know?
A-WALL modular offices are shipped with U.L. listed switch and outlet assemblies factory installed in the wall panels.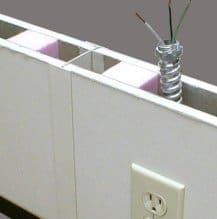 Factory wired panels reduce your installation time and labor cost.
A Division of Component Systems, Inc.
2245 West 114 Street
Cleveland, Ohio 44102
Phone - 216-252-9292 | 800-345-4400
FAX - 216-889-1263 | 888-432-9274
E-mail: info@a-wall.com
Privacy Policy