Metrology and Coordinate Measuring Machines
Metrology is the science of measurement and weights. Dimensional metrology is, more specifically, the measurement of the physical size of objects – length, width, height, depth, diameter – to determine if those dimensions meet critical design specifications.  
A coordinate measuring machine (CMM) is a device used to measure these values. It measures height, width, depth, length and diameter, and notates features such as surface, holes, edges, and any projections featured on the object. Often used in manufacturing to measure parts, they can be controlled mechanically or manually. 
CMMs are most commonly used during quality control (QC) for manufacturers due to their ability to measure parts with higher precision than hand measuring tools. They can also be programmed to measure multiple parts in the same process.
These measurement machines have three central components:
The main structure with three axis – X, Y, and Z that travel over the surface of the parts 

Probe – the sensory component responsible for the measuring parameters 

Data collection device – a computer with relative software
They also come in three general models: 
Bench

– mounted on a bench-top or a desk 

Freestanding

– installed directly on the facility floor

Portable – unit can be moved freely; also referred to as a handheld CMM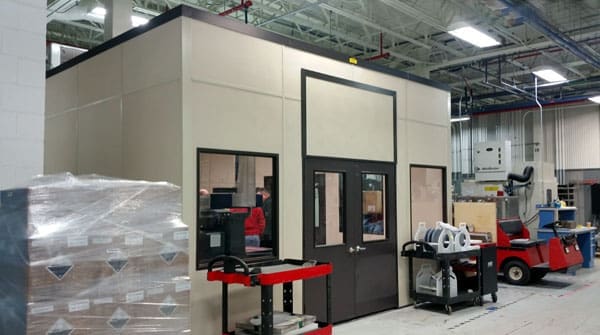 WHY ENCLOSE IT?
CMM rooms, metrology rooms, gauge rooms, and quality control rooms are necessary for various reasons. 
The more common bench-mounted and freestanding machines will take up more space than a portable unit due to their size and abilities. Portions of the equipment, particularly the probes and data collection device, are sensitive and easily damaged by dust and particles commonly produced by the manufacturing process. A separate room will keep the machine protected from elements which could cause permanent harm or an error in measurement outcome. A temporary cover will protect it to some degree when not in use, but there is no level of safety when the CMM is in the process of measuring an object. 
Temperature stability within the room is needed to control the expansion and contraction of both the CMM and the part during measurement. These parts often need to be stored in the same room as the CMM so that they can become stabilized at room temperature. 
Also, due to its size and capabilities, this equipment is a significant, capital investment for most companies, so security is a priority. Placing the CMM in a separate, secure room protects the machine and computer from unauthorized access or damage. 
Another primary reason manufacturers enclose their CMM is to display it to existing and potential clients as a significant investment in quality control. It allows them to view the machine without gaining access to the equipment.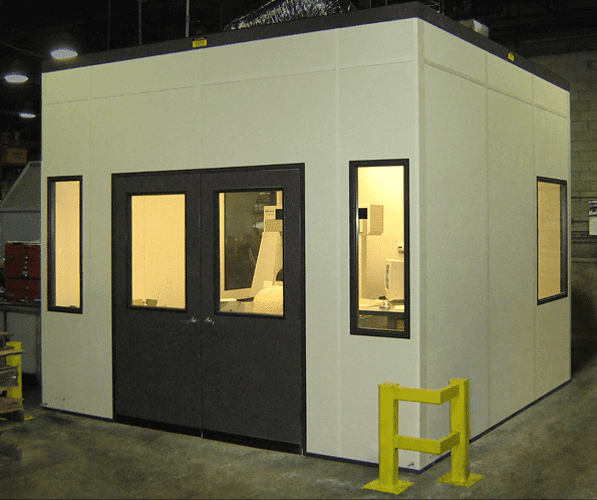 WHY A-WALL?
Coordinate measuring machines vary greatly in physical size. A-WALL buildings that enclose CMM's will sometimes require higher than average ceilings to accommodate the machine's Z Axis. Larger rooms with higher ceilings may also be needed to include material handling equipment such as jib or bridge cranes used to move heavy items for measurement in special cases. A-WALL Building Systems can construct your CMM or QC room with varied ceiling heights as well to minimize the cubic space, so climate control is easier to achieve, as well. 
Different door options are available for a custom-built A-WALL room ranging from standard, steel man doors to large, high-speed roll-up doors that open and close quickly for environmental control – an effective option for climate-specific rooms.
Removable transom panels located above standard, double man doors are another possibility. These transom panels can be removed temporarily for added height when installing or removing a tall CMM. This is less expensive than installing large doors for infrequent use. 
A-WALL CMM rooms offer reliable temperature control for environmental stability. They can also be designed to add positive room pressure and HEPA filtration to reduce the infiltration of airborne particles that may contaminate the equipment. 
A-WALL Building Systems began manufacturing CMM rooms and metrology labs more than two decades ago, and continues to serve premier companies nationwide. Each room is unique, designed to the specific HVAC, material handling and air cleanliness needs of the client. To learn more, to request a quote, or to speak to one of our design specialists, you can contact us here.
Get a FREE Quote! Call Now!
1-800-345-4400
Or Request a Quote Online
Manufactured by Warwick Products.
5350 Tradex Parkway
Cleveland, Ohio 44102
Phone – 216-252-9292
FAX – 216-889-1263 | 888-432-9274
E-mail: info@a-wall.com
Privacy Policy