Electrical Packages
Both standard and poly-core A-WALL panels are shipped with the switches and receptacles factory installed and wired. You specify the electrical devices you require and designate their locations. The standard electrical package includes a main breaker panel, 2' x 4' recessed, fluorescent light fixtures, switches, receptacles and additional device boxes with pull lines for your low voltage devices.
---
Electrical Devices
Unlike most modular building systems that limit wiring and device locations to narrow, hollow posts at their panel connections, standard A-WALL panels are equipped with three independent wiring cavities. This allows you to choose the locations of your switches and receptacles, as well as phone and data boxes. In fact, several devices can be installed in a single wall panel when necessary. If additional devices are required after the modular office is installed, these cavities facilitate concealed wiring using common, "off-the-shelf" boxes and conduit.
Light Switch
2-Gang Light Switch
Duplex Receptacle
Quad Receptacle
Phone and Data Boxes
Low Voltage Boxes
Factory Wired Wall Panel Options
Two "factory wired" panel options are available to eliminate the need for field installation of your receptacles and switches. This significantly reduces assembly time. Prefabricated receptacle and switch wiring assemblies are UL listed/labeled and factory installed in the wall panels in accordance with the National Electrical Code.
---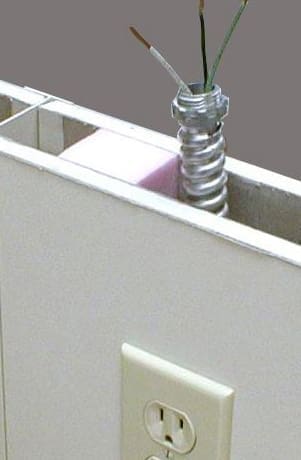 Factory Pre-Wire
The MC cables from the prefabricated wiring assemblies are equipped with box connectors. Your electrician connects them to junction boxes and rigid or flexible conduit he provides above the ceiling. The electrician also installs conduit and wire for the light fixtures, with all devices terminating at the breaker panel.
---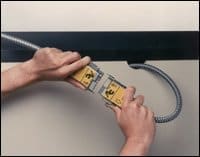 FLEX-4 Modular Wiring
The MC cables from the prefabricated wiring assemblies are equipped with Flex-4 modular connectors. The light fixtures are also prepared for Flex-4 cables so all of the electrical components "snap together". An electrician is only required to wire the breaker panel.