Exclusive Features and Accessories
Click on any of the tabs below to learn more about features and accessories for your A-WALL modular office or inplant building.
Did You Know?
A-WALL modular offices are shipped with U.L. listed switch and outlet assemblies factory installed in the wall panels.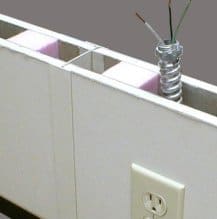 Factory wired panels reduce your installation time and labor cost.
Manufactured by Warwick Products.
5350 Tradex Parkway
Cleveland, Ohio 44102
Phone - 216-252-9292 | 800-345-4400
FAX - 216-889-1263 | 888-432-9274
E-mail: info@a-wall.com
Privacy Policy