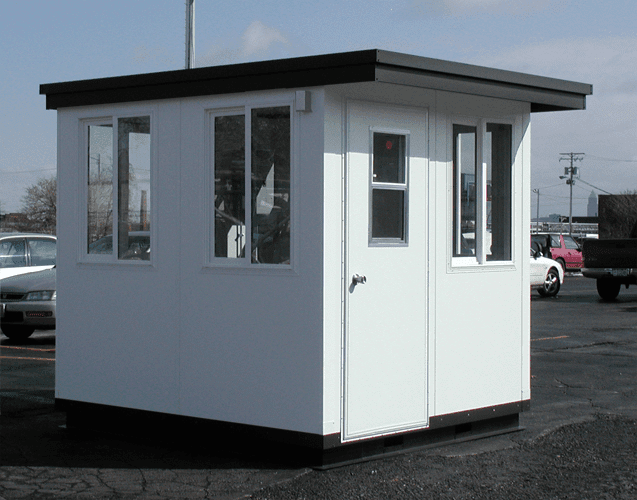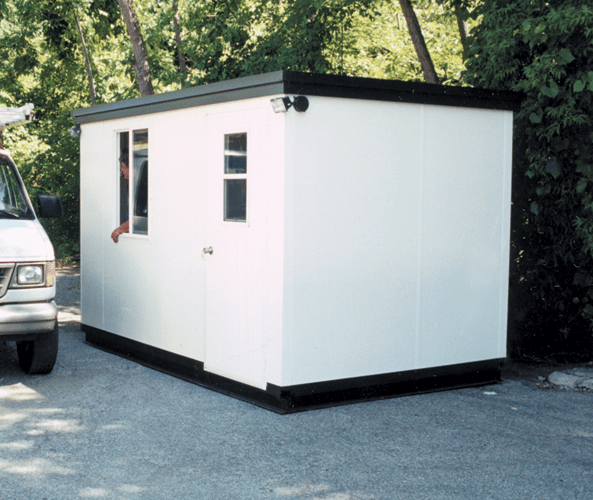 The Exterior Building Systems
A-WALL 500 Exterior Buildings are ideal as guard houses, attendant's booths, equipment enclosures … any application that requires a durable, environmentally controlled structure. Shipped factory assembled, A-WALL 500 Buildings feature a white, embossed aluminum panel surface bonded to solid, insulating polystyrene that will bear the brunt of rain, snow and blazing sun. Aluminum connecting components are factory finished and weather sealed. Out-swinging doors are durable, surfaced with an impact resistant, fiberglass reinforced plastic.
The welded steel, forkliftable base has an insulated, 3/4″ tongue and groove plywood floor finished with a commercial, sheet vinyl floor covering. Factory wired, all electrical service is surface mounted in conduit and conforms with the National Electrical Code. Options include HVAC, Formica shelves, custom glazing and steel doors.
Factory Assembled, No Installation Required
Arrives on-site pre-assembled and wired on a steel, forkliftable platform.
Fully Insulated
Walls, roof and floor are insulated to R=12. EPS core panels connect using color coordinated I-Studs and corners for uniform insulation around the building.
Durable, Aluminum Finish
White, embossed aluminum finish inside and out for years of maintenance free service.
Insulated, Sliding Windows
Horizontal, sliding, insulated windows, located around the building for borrowed light and visibility.
Get a FREE Quote! Call Now!
1-800-345-4400
Or Request a Quote Online
A Division of Warwick Products.
2245 West 114 Street
Cleveland, Ohio 44102
Phone - 216-252-9292 | 800-345-4400
FAX - 216-889-1263 | 888-432-9274
E-mail: info@a-wall.com
Privacy Policy