Building Designs
Standard A-WALL modular offices are four-sided, freestanding and include all of the components necessary for structural integrity. They are designed to be built on existing floors or structural steel platforms. Every component is factory cut and marked clearly to match comprehensive assembly drawings, simplifying field assembly.
The drawing below offers an exploded view of a basic, four wall building with several accessories such as a sliding reception window and an air conditioner. You will also find drawings of many optional room configurations on this page that address different project requirements and site conditions.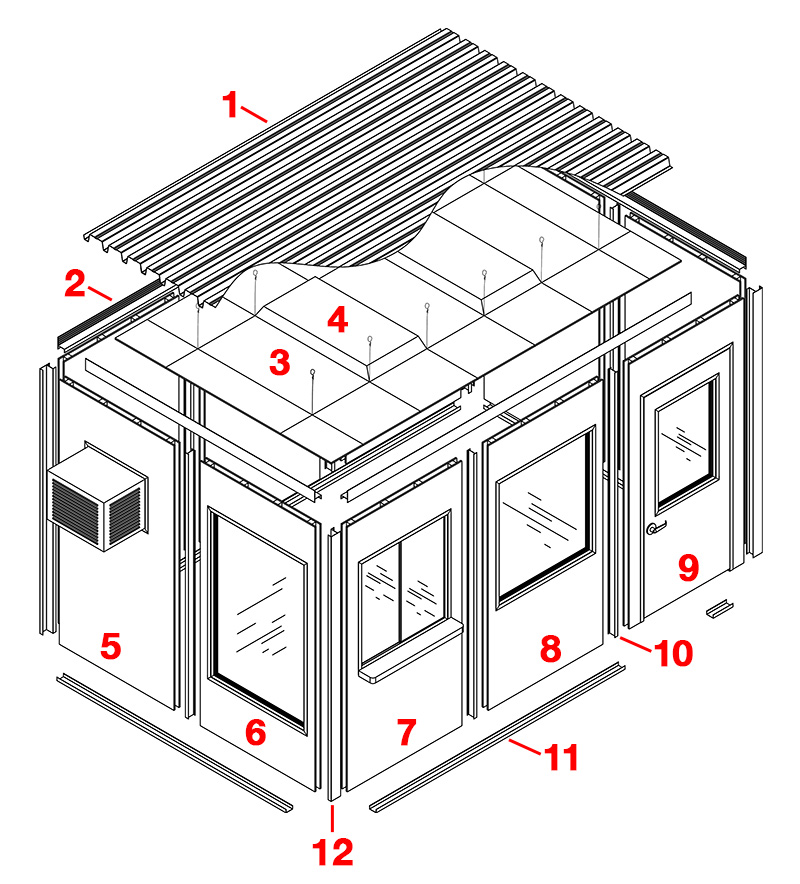 Galvanized, Corrugated Steel Roof Deck
Aluminum Top Cap with Fascia
Suspended Acoustical Ceiling
Recessed, Fluorescent Light
Through-The-Wall Air Conditioner Panel
Surveillance Window Panel
Reception Window Panel with Shelf
Standard Window Panel
Door Panel
Steel Stud, Aluminum I-Stud or Channel Stud
Floor Channel
Aluminum Corner
Unlimited Building Configurations
A-WALL building components can be designed to create unlimited building configurations. Depending on your specific needs and site location, significant savings can be realized when existing walls are used to create three and four wall buildings. Project cost is also reduced when multiple buildings are designed to use common walls, creating a building complex.