Dealer Support Site Login
The dealer support site offers tools and information designed to help you be more efficient and effective for your A-WALL Building Systems customers. If you aren't currently registered, please request a password using the appropriate link on this page.
Dealer Password Request
Authorized A-WALL dealer personnel who do not have a password, or those who have forgotten their password can request login information here.
Become a Dealer
If you would like to join the A-WALL team as an authorized dealer, tell us about your organization, the products you represent and the territory you effectively service.
Exclusive Features and Accessories
Click on any of the tabs below to learn more about features and accessories for your A-WALL modular office or inplant building.
Did You Know?
A-WALL modular offices are shipped with U.L. listed switch and outlet assemblies factory installed in the wall panels.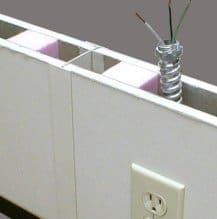 Factory wired panels reduce your installation time and labor cost.
Get a FREE Quote! Call Now!
1-800-345-4400
Or Request a Quote Online
A Division of Component Systems, Inc.
2245 West 114 Street
Cleveland, Ohio 44102
Phone - 216-252-9292 | 800-345-4400
FAX - 216-889-1263 | 888-432-9274
E-mail: info@a-wall.com
Privacy Policy