More Info
Address:
2245 West 114 Street
Cleveland, Ohio 44102
Phone:
216-252-9292
800-345-4400
Fax:
216-889-1263
888-432-9274
E-mail: info@a-wall.com
Exclusive Features and Accessories
Click on any of the tabs below to learn more about features and accessories for your A-WALL modular office or inplant building.
Did You Know?
A-WALL modular offices are shipped with U.L. listed switch and outlet assemblies factory installed in the wall panels.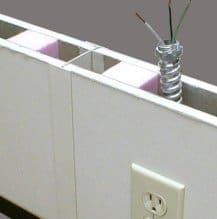 Factory wired panels reduce your installation time and labor cost.
A Division of Component Systems, Inc.
2245 West 114 Street
Cleveland, Ohio 44102
Phone - 216-252-9292 | 800-345-4400
FAX - 216-889-1263 | 888-432-9274
E-mail: info@a-wall.com
Privacy Policy